Learning how to grill salmon in foil will help you prepare quick, delicious meals. There are so many benefits to cooking salmon in foil and we will cover them all! This easy method of cooking requires just a few ingredients, barely any prep time, and almost no clean-up. Sounds great, right? You don't even have to turn on the oven!
I am a big fan of any kind of salmon. I love salmon cooked on the grill, salmon sauteed in a frying pan, or a salmon fillet that has been baked in the oven. I just don't think I will ever grow tired of eating this healthy, tasty fish.
I especially love recipes for salmon that are simple and easy to make. A good fish recipe just needs a few spices and herbs and it is ready to cook. Let the flavors of the fish shine through! But if you want even more easy salmon ideas for dinner, then we have you covered! We even have recipes with leftover salmon you can have for lunch the next day.
There are also tons of incredible side dishes that you can serve with these juicy fillets. In fact, I have found 27 amazing salmon side dishes  that are all very easy to make. Choose a different side every time you turn on the grill and you'll have new meal options for weeks!
In addition to tasting great and being versatile, seafood is also very healthy so there are many benefits of salmon. Adding these tasty fillets to your diet will do wonders for your body. All the more reason to make this recipe more often.
Now let's start talking about how to grill salmon in foil, shall we?
Grilled Salmon in Foil
Cooking salmon in foil may be one of the most straightforward ways to prepare tasty seafood. I have written a quick little tutorial on how to grill salmon in foil to perfection. It is a recipe anyone can make! All you need is some tin foil, some fresh fillets, a few seasonings, lemons, and a drizzle of olive oil. Let's start cooking!
1. Preheat Your Grill
Start by heating up your grill. Any kind of grill will work to cook salmon in foil. You can use a gas grill, charcoal grill, or even an electric, indoor grill. If your grill has heat settings, set it to about 400-450 degrees f. This is usually a medium-high setting. Starting your grill at the beginning of your meal prep will ensure that it is nice and hot when you are ready to cook.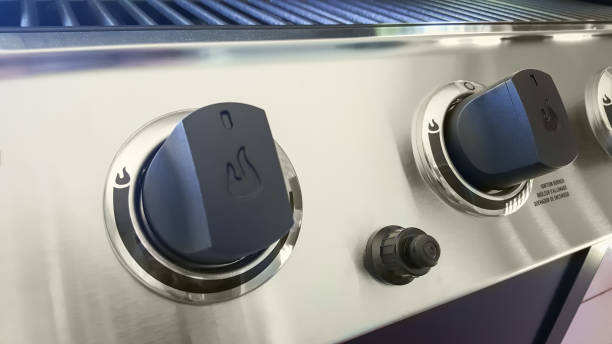 2. Select Your Salmon Fillets
Get out your salmon fillets. I always love using fresh seafood from my local seafood shop. However, frozen salmon fillets will work as well. If you choose to use frozen salmon, be sure to thaw them completely. You can quickly thaw frozen salmon by placing the fillets in a zippered plastic bag. Next, place that bag into a bag of room temperature water. Refresh the water a few times and the seafood will thaw quickly.
When choosing fillets to grill, I like to pick the smaller pieces. I find that they are easier to work with when grilling. A nice 3 1/2 ounce fillet is an ideal size. This is also considered to be one portion of salmon.
3. Lay Out Your Foil
Spread a large piece of foil on your work surface. You want the foil to be long enough for all the pieces of salmon to be enclosed inside. If you would rather make individually wrapped foil packets, you can do this as well. For this cooking method, place several small pieces of foil on your counter.
Lay the salmon fillets in the middle of the long foil sheet or in the center of each small piece of foil. Drizzle olive oil across all of the fillets. I usually go back and forth with the bottle about 3 times. You can estimate about a teaspoon of olive oil per fillet. No need to be exact! A healthy drizzle will do for your grilled salmon in foil recipe.
4. Add the Seasonings
Sprinkle the fillets with a little sea salt, about 1/4 teaspoon of salt will do. Add some dry Italian seasoning. If you don't have Italian seasoning, use some dried basil, dried parsley, or chopped rosemary. You can even sprinkle a little cayenne pepper on top of the salmon to give it some heat. Add some minced garlic if you'd like!
This recipe is very flexible so season heavily or lightly based on your personal preferences. We also have a few seasoning suggestions below to help you get your creative culinary juices flowing.
You can replace sea salt with kosher salt if needed. Try to use coarse, large grain salt as it will help keep the meat tender as it cooks on the grill.
Slice a lemon into thin rounds. Place the lemon slices on top of each fillet. I like to put about 2 to 3 pieces of lemon on each filet. You can skip the lemon if you aren't a huge citrus lover. The dinner will still taste delicious without it!
5. Wrap the Salmon
Wrap the salmon inside the foil. If you are using one large foil sheet, enclose all the fillets and seal the top and sides of the foil. Do the same if you are making cute little individual salmon packets.
6. Grill Foil Wrapped Salmon
Place the foil-wrapped salmon on the preheated grill. Cook the packets for about ten to twelve minutes. Cook longer if you have especially thick fillets. You can adjust the time based on your preferred level of done-ness as well. However, it is recommended that you cook salmon fully to an internal temperature of 145 degrees F.
7. Enjoy!
Remove the salmon foil packets from the grill and carefully open the aluminum foil packets. As the foil opens, steam will come rushing out  so be careful. Hot steam can burn!
Remove the salmon from the foil packs, place them on a plate and serve with your favorite sides. You can also enjoy the grilled lemon salmon straight out of the foil. No plates needed!
See how easy it is to make amazing grilled salmon in foil! This is such a delicious and easy recipe that it is sure to become a weeknight favorite.
Grilled Salmon Recipes
There are so many ways that you can adjust our basic grilled, foil-wrapped salmon recipe. With a few alterations, some new spices, and a tweak here and there, you can make salmon in foil all different ways. Use our basic methods to make your own, delicious recipes. Here are a few of our favorite ways to prepare salmon in foil.
Garlic Butter Salmon
Add fresh chopped garlic to each foil packet. Skip the olive oil and add 1/2 teaspoon of butter on top of each salmon fillet. Garlic butter salmon is rich and slightly tangy. Serve garlic butter grilled salmon alongside some asparagus spears or roasted potatoes. The fresh cloves of garlic butter also make a great sauce for the side dishes.
Spicy Grilled Salmon in Foil
Add some fresh ground black pepper to each aluminum foil packet. Sprinkle the salmon fillets with some cayenne pepper or red chili pepper flakes. Wrap up the salmon fillets and grill as directed above. This will be a crowd-pleaser for anyone who enjoys a little heat and flavor.
Salmon Asparagus Packs
Chop a few asparagus spears and place them inside the foil packet with the salmon fillets. The salmon in foil will cook while the asparagus spears are steamed inside at the same time. The fresh lemon juice in our recipe also goes great with asparagus. Fresh chopped garlic would taste amazing as well. You can cook your vegetables and grill salmon in foil all at the same time! Add a few halved cherry tomatoes for even more healthy vegetables.
Asian Inspired Salmon
Add a teaspoon of soy sauce per salmon fillet to the foil packet. Sprinkle some fresh chopped garlic and a little salt and pepper on top of the salmon. Grill salmon in foil as directed above. The salty, sweet soy sauce will give your fish a delicious, Asian twist.
Sweet Caramelized Salmon
If you like sweeter salmon recipes, try adding a teaspoon of brown sugar to the top of each salmon fillet. Use butter in place of olive oil as well. The brown sugar and butter will melt together and cook into the fish, giving it a sweet, rich flavor. Serve the sweet salmon over a bed of white rice. The brown sugar sauce will taste delicious when poured over the rice and fish. This will definitely be a family favorite and a true kid-pleaser.
Easy Grilled Salmon in Foil
Making grilled salmon in foil has a lot of benefits. The first great part about grilling salmon in foil is that is it so easy to put together. You can make a fresh salmon foil pack in about 5 minutes! A teaspoon of salt and pepper, a bit of fresh lemon juice, and a juicy salmon fillet are all you need. Wrap up the packet and cook. It is a recipe that is so easy, even a novice chef can make it.
Grilled Salmon in foil also requires minimal clean-up. Once you grill the salmon in foil, remove the fish and the juices and throw the foil packet away. There are no messy pots to scrub, food particles to clean up and you don't need a wire brush to clean the grill. You can even eat your salmon right out of the packet. This recipe doesn't even require plates! A few paper towels and a fork are really all you need. Grilling a salmon packet is so much neater than using a cast-iron skillet or baking sheet pan.
Health Benefits of Salmon
Grilled salmon in foil is also very healthy. Our recipe uses just a tiny bit of oil which makes this grilled salmon low in fat. You can even skip the oil completely and just use lemon to steam the salmon fillet inside the packet.
Salmon has a wide range of health benefits. It is full of healthy Omega 3 fatty acids and can provide a large percentage of your recommended daily amount of B vitamins. One piece of this fatty fish has lots of healthy protein, vitamin a, vitamin c, and potassium. Sounds like grilling salmon more often is a great idea for your health and your taste buds!
Choose Nutritious Pairings
If you are most interested in making healthy, delicious foods, our method of grilling seafood in foil is a perfect way to make nutritious meals. Choose fresh veggies and other healthy side dishes to serve with your food. It's always a good idea to make extra foil packets so you have leftover salmon for the next day. Nutritious meal prep is easy with this simple, family-friendly way to cook.
Side Dishes for Salmon
There are so many amazing sides that you can pair with a salmon fillet. Consider how you are cooking your meal when you plan your sides. Try to choose a side that you can cook on the grill at the same time as your foil packet. Wrap a few small halved potatoes in foil, drizzle with olive oil, and grill for about 20 minutes. Try a side dish of grilled summer veggie kebabs. You can even cook a pot of rice on the grill!
It's nice to pair your seafood meal with a starch or vegetable. Since you already have healthy protein cooking on the grill, vegetables would complete your meal. A starch, like potatoes or rice, will also make your dinner a little more filling.
A juicy, grilled salmon fillet is a very versatile and flavorful entree. There are so many different options that pair well with it and will give you a tasty, complete dinner. Be sure to let us know what you served alongside your grilled salmon in foil! I love to see what you make so post some pictures and comments below!
The Wrap Up
I absolutely love easy, delicious recipes. What better way to make a quick tasty recipe than by grilling outside! Give our grilled salmon in foil recipe a try and let me know what you think. I know you will quickly become a fan and make grilled salmon in foil all the time. It will likely be one of your favorite ways to cook this tasty fish. Enjoy!